Businesses are increasingly ready to make the move to electric vehicles.  While the purchase price is generally a bit higher than their diesel or petrol counterparts, many people have caught on that the leasing costs of an electric vehicle are actually very similar to diesel or petrol.  The running costs are substantially lower when you consider recharging compared to diesel/petrol and then there is the added benefits that the low/zero emissions reduces both road tax and the bill employee's receive in relation to their benefit in kind tax.  It quickly becomes clear that leasing an electric car is a pretty good deal all round.  The next question becomes – which one to pick from and with this being one of the fastest changing markets at present, we thought it might help to give an overview of a few of the most popular models available at the moment. The cost of leasing an electric car will be higher than a traditional petrol or diesel car but the overall whole life costs balance out over the leasing period.
Our tagline is #DriveSmart and for good reason.........
Choosing a vehicle today can save you a lot of money. Electric and Hybrid vehicles can significantly reduce BIK tax not to mention fuel savings.
Talk to the experts before making your decision.
1. Tesla Model 3
WhatCar Large Electric Car of the Year and Carwow's Electric Vehicle of the Year in 2021, the Tesla Model 3 has lots of good reports.  A keynote is the increased range of about 350 miles if you are careful and fast charging which is helping to challenge the assumption that electric means lots of stops to recharge and sticking to short journeys.  It's quick accelerating, built with safety in mind and has a range of optional extras including cruise control which will change lanes for you if you indicate.  Appearance wise it has a large panoramic glass roof which brightens the interior and much of the controls are housed in a large, easy to use touchscreen – so there's hardly anything on the dashboard.  There's space for four adults and the front and rear boots give good luggage capacity.  What many people would regard as a good all-rounder.
2. Volkswagen ID.3
Billed by Volkswagen as an award-winning family electric car, the all-Electric Volkswagen ID.3 is also the Whatcar Small Electric Car of the Year for 2021.  With five doors, five seats and decent space, it's effectively the same as the popular Golf but powered by electric.  For those who want to make sure they have plenty of range, there's a choice of three battery sizes and it is advertised as having a WLTP range of 263 miles.  The ID.3 comes packed with tech in it's Discover Navigation Pro touch-screen navigation infotainment system and has a minimalistic appearance inside.
There is a subtle AI driver alert system which helps guide you when you need to take action such as following the satnav or when you need to break quickly.  Optional extras include a heat pump for the interior which means less power is needed from the battery giving better range in winter.  On the negatives, the larger battery models can be expensive and the interior finish is maybe not quite as good as what you expect of Volkswagen.  On the plus side, it is a nice to drive, has decent range and is a good family car.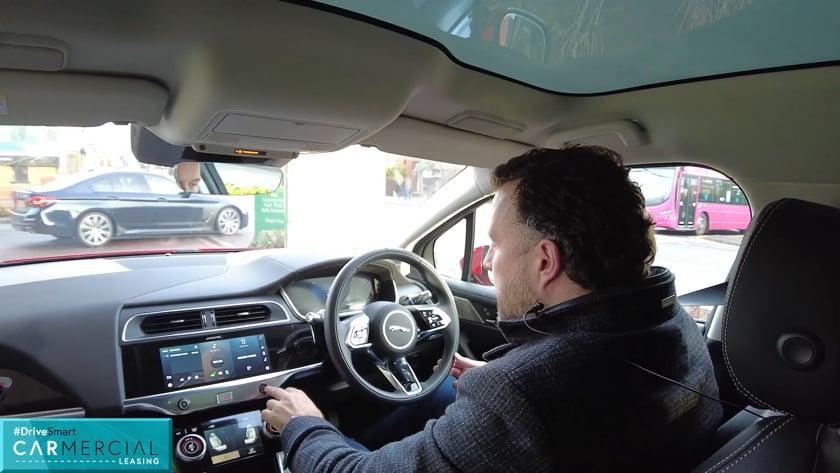 3. Jaguar I-Pace

Jaguar's first electric car is a SUV with two concentric electric motors giving you four-wheel drive.  It comes with great safety and security features like traffic sign recognition to tell you what speed you should be going and automatic emergency breaking.  Advertised as having a 292 mile range on a WLTP cycle, you won't have to stop to recharge as often and it has clever technology like brake regeneration and eco mode to try to eke out as much as possible from the battery.
It's a nice-looking SUV inside and out with all the trim you would expect of a Jaguar.
4. BMW iX3

This is BMW's second electric vehicle but it's first all-electric Sports Activity Vehicle.  Essentially the iX3 is an X3 with an electric motor with a few visible changes like a kidney shaped grille, aerodynamic alloy wheels and some blue accents.  Awarded large electric car best SUV by Whatcar in 2021, it has an official range of 285 miles and is quite quick to recharge depending on the charging rate you are able to access.  If you are charging at home, a full charge can be done overnight.
Just like the X3, there's plenty of space both for passengers and for your luggage in the boot.  The iX3 is rear wheel drive and while not exactly speedy, it's not slow either and runs very quietly.  Like the X3, the iX3 is a good quality, solid car with everything you would expect from a BMW.
5. Kia e-Niro

Whatcar's best small electric car for long distances in 2021, the Kia e-Niro has an official range of 282 miles so you won't have to stop as often to recharge.  A charge to 80% can be completed in under an hour with a fast charger but a charge at home will take overnight.  Noted as a good family vehicle, comfort is a key feature of the vehicle as there's plenty of space inside with its large rear seats and a good size boot for everything you need to take with you.
The e-Niro comes well kitted out.  It has a good infotainment system with in-built sat-nav and Apply CarPlay/Android Auto that is easily managed by the decent sized touchscreen.  Overall, a solid family vehicle with a great range between charges.
As with all new cars, it will ultimately be up to individual choice which aspects you prefer of each vehicle, but we think it's clear to say – there's plenty of good quality, reliable electric cars to choose from.  While range is no longer such a concern with improving technology and more charging points appearing regularly, if having the best of both worlds is still important to you, there are also a good range of hybrids which still give you some of cost savings and reduce your carbon footprint and still have good benefit in kind tax deductions.
Our tagline is #DriveSmart and for good reason.........
Choosing a vehicle today can save you a lot of money. Electric and Hybrid vehicles can significantly reduce BIK tax not to mention fuel savings.
Talk to the experts before making your decision.